Scents that elevate your routine.
CarteHaus is a fragrant-forward lifestyle brand for those who carry scent as an extension of their personality, mood, and vibe. With an unexpected blend of scents, we create aromatic experiences that romanticize everyday moments.
Not sure which scent fits you best?
Take our scent quiz to discover what scent fits your mood, plus get a discount code on your next purchase.
Selfish is not a dirty word.
Craving the warm scents of Fall to help you feel cozy during the crisp Autumn evenings ... light a candle.
Elevate your routine.
Getting into the zone with lofi beats, and 20 tabs on your desktop... light a candle.
A daily dose of luxury.
Our mission is to add a touch of self-care to your daily life (no matter how busy your day is) with custom scents that bring positivity, inspiration, and relaxation into your home.
Love the smell and cozy feeling that you get from being in a coffee shop? This candle brings that smell and feeling right into your home so you can enjoy the vibe without ever leaving your favorite chair or couch.I love lighting this candle in the morning to get my day started while enjoying my cup of coffee :)
– Jess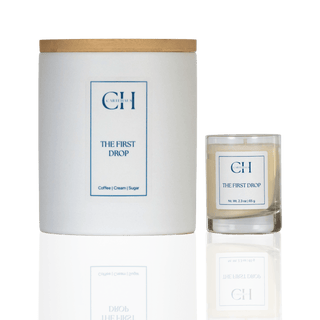 Love this scent! It's not overpowering and I can leave it on all day when we have house parties and guests love it. If your looking for a good "all people" pleasing scent this is the one for you, definitely a crowd favorite.
– Iia
Events
Our upcoming pop-up events
Lake Anne Market

December 2nd, 2023 (10am-3pm)

1609 Washington Plaza N, Reston VA

Muz & Rose Pop-up

December 16th, 2023 (1pm-6pm)

3 Loudoun St SW, Leesburg, VA

EatLoco at One Loundon

December 23rd, 2023 (9am-1pm)

44578 Atwater Dr, Ashburn, VA
What's On Our Mind
It's not just your imagination - scent actually has a strong and unique connection to triggering vivid memories.
How to take the guilt out of prioritizing yourself, battle burnout, and reenergize yourself.